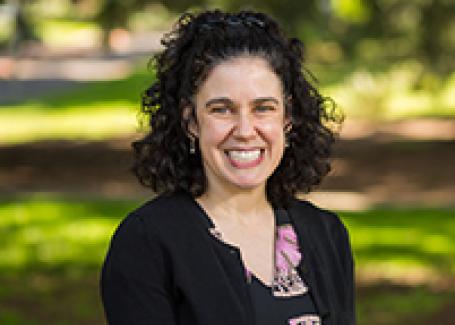 Naomi Osaka: Defining the Activist Athlete in Twenty-First Century Japan
The PSU Center for Japanese Studies Presents
A talk by Alisa Freedman, Professor of Japanese Literature, Cultural Studies, and Gender at the University of Oregon
Naomi Osaka: Defining the Activist Athlete in Twenty-First Century Japan
Tennis star Naomi Osaka—born in Japan in 1997 to a Japanese mother and Haitian father and raised in both the US and Japan—has used her athletic talent, influence, and marketability to both boldly speak up and defiantly stay quiet to initiate change. During tennis matches and public appearances, she has made statements about race and mental health. She relinquished her US citizenship to play for Japan in the 2020 Tokyo Olympics. But during interviews in Japan, she speaks English rather than Japanese. Osaka has starred in advertisements that raise awareness of what it means to be half Japanese in Japan and a half Asian, half black woman during a global rise of hate crimes. She dropped out of high-profile competitions to protect her mental health, paving the way for other athletes to do the same. She has protested for Black Lives Matter and against anti-Asian hate and has donated tournament earnings to Haiti earthquake relief.
This talk explores Osaka's image in Japanese and global media to understand how she has publicly negotiated the intersection of factors that comprise her identity. Arguably, Osaka is a star at the right time, and her use of media was made possible by athletes before her, including Billy Jean King and Kimiko Date. I will examine Osaka's media events and their backlash to show how she has disrupted notions of nation and sport from within the system, creating a new kind of activist athlete in twenty-first century Japan.
Attend in-person: Smith Memorial Student Union room 327/8/9
*Please Note: a properly fitting face mask that covers both mouth and nose must be worn in the building at all times.
or   REGISTER to attend by Zoom
Alisa Freedman is a Professor of Japanese Literature, Cultural Studies, and Gender at the University of Oregon and the Editor-in-Chief of the U.S.–Japan Women's Journal. Her books include Japan on American TV: Screaming Samurai Form Anime Clubs in the Land of the Lost, Tokyo in Transit: Japanese Culture on the Rails and Road, an annotated translation of Kawabata Yasunari's The Scarlet Gang of Asakusa, and co-edited volumes on Modern Girls on the Go: Gender, Mobility, and Labor in Japan and Introducing Japanese Popular Culture.
Contact cjs@pdx.edu for more information.