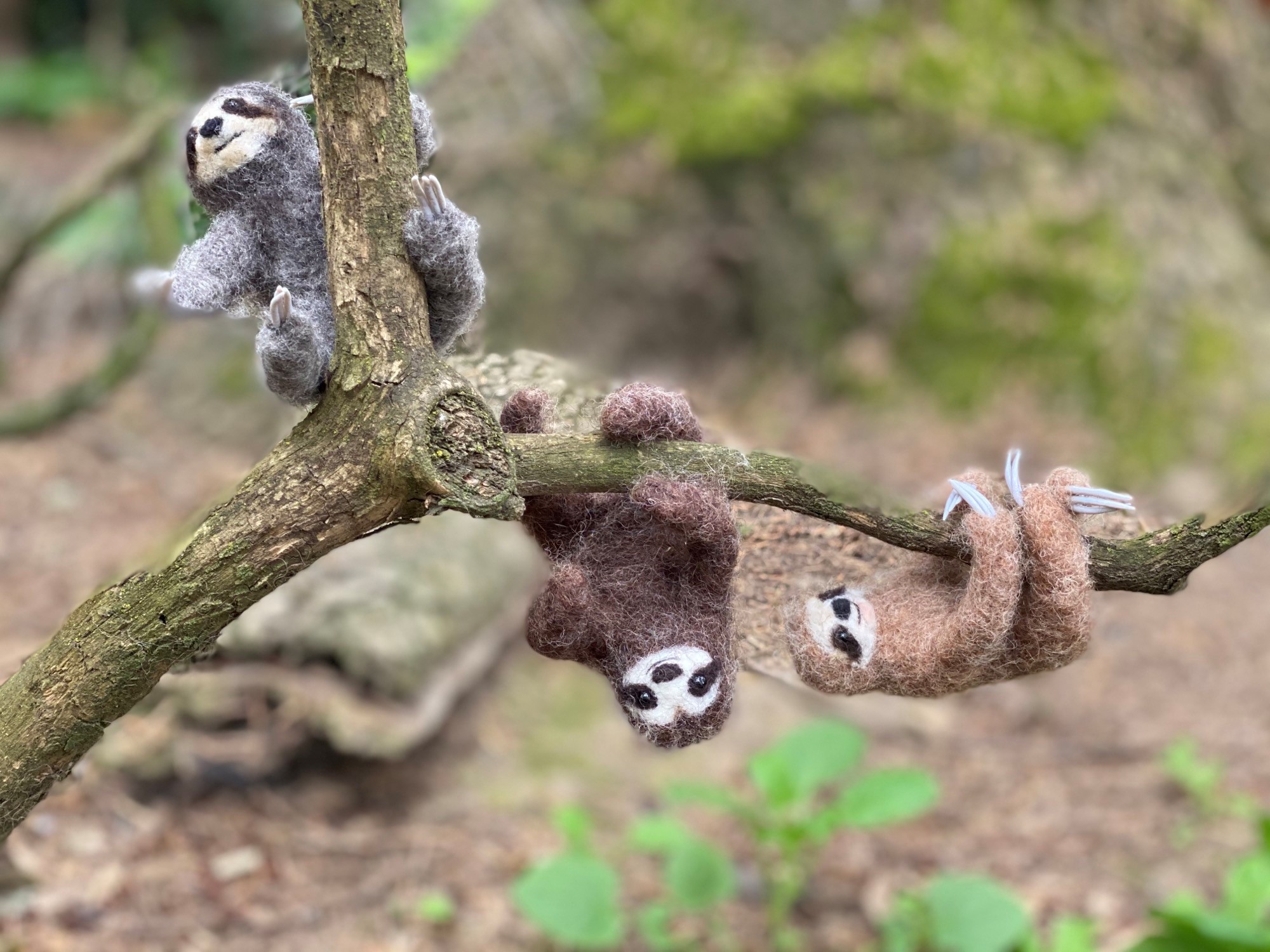 Needle Felting Class: Fuzzy Sloths
Learn to make miniature fuzzy sloths with artist Sunami Bjornson!
Sunami Bjornson, needle felting artist and owner of Minipup Creations, leads this online class on needle felting miniature sloths. Materials will be mailed to you. This is a live, limited-size class that will be taught over Zoom.
Needle felting is a technique to make sculptures from wool using a barbed needle. Once you learn the basics, you can make dogs, cats, and whatever else you like! Sunami's classes are structured to be progressive, so even if you've taken a class before, you will learn a new skill. Beginners also welcome!
In this class, we will learn to create miniature sloths, with or without claws. Learn to shape a body in felt and create a "fuzzy fur" effect. These make great gifts for animal lovers or decorations for spring. By the end of the class, you will walk away with a completed or nearly completed project. Materials are shipped to students, and you will receive more than enough to complete your project. Supplies will include baked clay claws made by Sunami that you can use on your sloth.
Although the class is scheduled for 6:00pm – 8:00pm, Sunami will continue to be available until 8:30 and recommends you plan to stick around if you can, as this is a more complicated project than some of the others we have done in the past.
Sunami has been felting and teaching for many years. She is great at working with beginners, but also welcomes her returning students. The class has a relaxed, social atmosphere and many students continue to keep in touch and share pictures of their projects. Class size is limited to 8 students.
There are two pricing options…one for if you need all the materials, and one for just the felting fibers. Both packages include clay claws for the sloths, which Sunami will be making by hand. Materials are shipped to students, so please be sure to sign up early.
$71.00: Admission to class plus all materials shipped to you, including foam block, needles, felting fibers, handmade clay claws, and any instructional materials that may be needed.
$61.00: For those that already have needles and a foam block. This ticket includes class admission, felting fibers, handmade clay claws, and any printed instructions that are needed for class.
TO REGISTER:
To sign up, you can register through Eventbrite here: https://needle-felting-sloths.eventbrite.com
or contact Erin: erins@encorepreneurcafe.com or 503-954-2837
Once you are registered, you will receive the Zoom link for the class a few days before it starts.
About Sunami
As a Husky parent, she has collected a lot of dog hair off and on, and wondered how she could use it. It was a few months after her first Husky had passed away when she decided to make his replica using his hair and wool by needle felting method. It was from her deep sadness of losing her dog. Years passed, and she has made a lot of Mini-Pups for her customers. Each time she put a lot of love and passion for the animals in the Mini-Pups.
Her work has been featured in the Summer 2020 issue of Dogs Outside the Ring and the Autumn 2020 issue of British Fibre Art. You can see her featured on Fox12 Oregon here.
Sunami's Etsy Site for more "Mini-Pup" pictures: