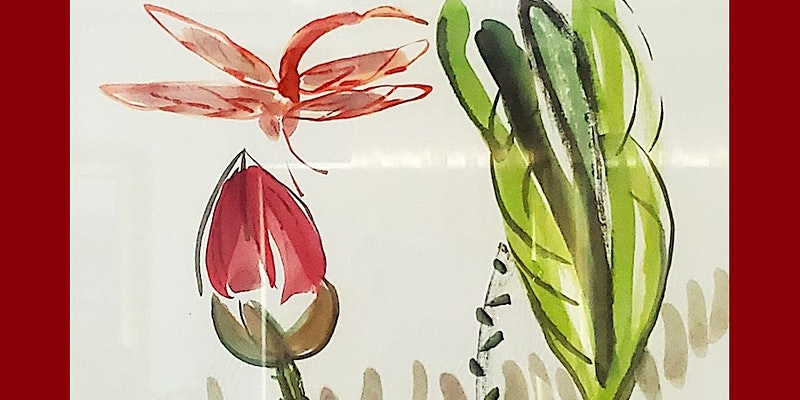 Sumi-e Ink Painting Class: Bamboo, Chrysanthemums, Ikebana Floral Design
Join professional artist and instructor Nancy Klos for a month of Sumi-e ink painting inspired by the Fall season!
This class meets weekly over Zoom on Thursdays, 3:00 pm – 4:00 pm PDT, from October 1-22, with an optional bonus class on October 29.
Join professional artist and instructor Nancy Klos for a month of Sumi-e ink Painting! This is an online class that includes videos, written instructions, assignments, and Zoom meetings with the instructor for critique and review.
Nancy's ink painting classes always take inspiration from the seasons. This Fall, you will create ink-and-brush paintings of bamboo, birds, chrysanthemums, and Ikebana floral arrangements. Each week has a theme and builds upon skills learned in the previous week using the focused techniques of Sumi-e. This is an excellent way to begin to paint. Nancy is also able to customize instruction when requested for those who are not new to the practice.
This class series includes weekly assignments, videos, and handouts, and weekly meetings over Zoom.
Nancy was the Artist-In-Residence at The Lan Su Chinese Garden in Portland Oregon from 2014-16. There she displayed her paintings in both ink and oils in the various buildings. She also taught a Sunday drop-in series for Sumi-e to Garden visitors from around the world! She took her own beginning lessons many years ago with local painter Cindy Lomasson, has taken numerous workshops with Master Sumi-e Painters Henry Li of Los Angeles and Yuming Zhu of Seattle.
Nancy earned her BFA at Connecticut College in Fine Art, Art History & French Language. She also studied for five additional years at The Oregon College of Art and Craft in the Fiber Arts Deptartment, working on French tapestry, Shibori dye, surface design , and the history of fine craft.
Nancy currently teaches specialty classes and workshops throughout the Pacific Northwest. Other venues include Menucha, OCAC, Sitka Center for Art and Ecology, Portland State University, and the University of Idaho. She began teaching ONLINE in May 2020 and now has students from all over North America learning to paint!
This class is $180.00 for 4 classes, or $200 for all 5 (a savings of $25).
Materials fee is $25 (to be paid via PayPal to the instructor upon registration). This includes brush, a variety of unique rice papers, and instructional handouts.
To sign up for the class, choose whether you would like 4 or 5 weeks of instruction. Once you have registered, Nancy will email you more instruction on how to join the class and how to get your supplies. Space is limited! Sign up by September 24 to receive supplies via regular shipping. After September 24, there will be an additional shipping charge.
Questions can be directed to Nancy: nancyklos@gmail.com or text 503.957.9938. You can view more of her artwork and classes at www.ateliernangallery.com.
One of her recent students describes her learning experience:
"I have taken in-person and ZOOM classes with Nancy. Regardless of the format she is a great teacher and so supportive of her students. I will continue to take classes with Nancy as she has taught me basics and more advanced approaches to SUMI-E painting and how to look at real objects and turn them into art.
Her most recent series on SUMI-E flowers on ZOOM was great. The video tutorials were easy to follow, clear and taught me new techniques and ways to look at real objects. She also challenged me with using new materials [inks and paper] that I would have not tried without her encouragement and guidance.
If you get a chance to take a live or ZOOM class with Nancy I recommend that you try this as it will be well worth the time and you will learn new and important techniques and tips."
–Colleen, a satisfied and happy student