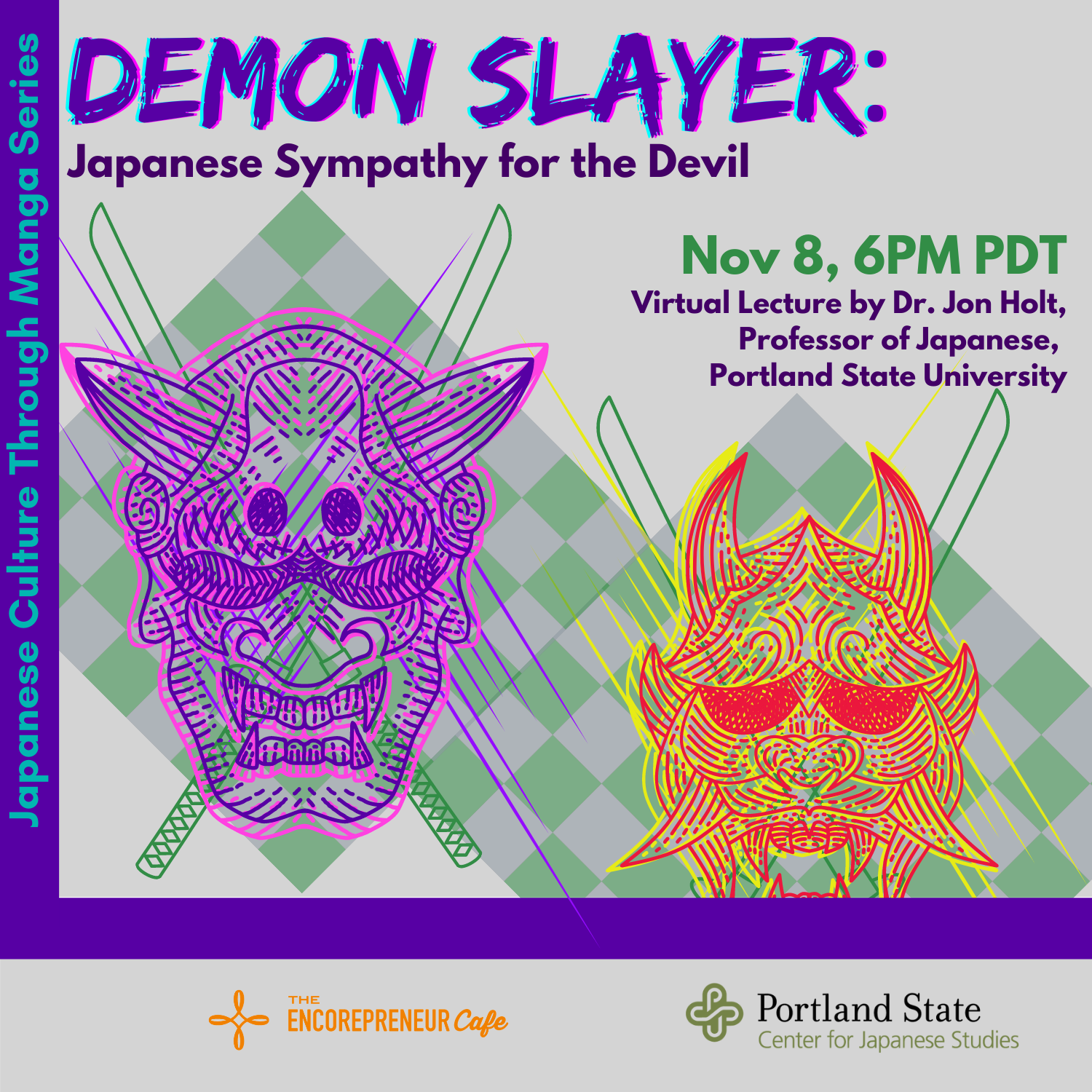 Demon Slayer: Japanese Sympathy for the Devil
Presented by Portland State University Center for Japanese Studies and The Encorepreneur Café

Join us for part 6 of our ongoing series on Japanese Culture Through Manga:
Professor Holt discusses this hit manga about a demon hunter who must find the humanity in his enemies or risk losing his sister forever.
In Demon Slayer (Kimetsu no yaiba), Japan's largest anime and manga hit to date, Tanjiro learns the way of demon slaying so he can avenge his family and restore order to a chaotic, upside-down version of Taishô period (1912-1926) Japan.
In this fantasy version of Japan's modern period, a zombie-like demon pestilence threatens to destroy the good people of Japan's countryside. Tanjiro loses all of his family except his sister Nezuko, but she has been infected with the demon's bite, ticking like a time bomb to become a full-on demon herself. To preserve her humanity and destroy the evil, Tanjiro learns how to become an elite member of a demon-slaying corps, hoping to find a cure for demon infection and reverse his sister's corruption along the way.
What makes this mega-hit supernatural story—an insanely popular manga, anime, and film franchise both in Japan and around the world— so powerful with audiences is its humanity. Only in a story from Japan would we encounter an avenging hero who hates his enemy but also learns how to forgive and even feel sympathy for the monstrous and viciously evil demons (oni). Tanjiro's approach to demon slaying is very much in keeping with the dual aspects of vengeance and forgiveness in Japanese traditional culture. Having compassion for one's enemies and even helping them work through their evil to find spiritual emancipation is quite visible in Japan's early literary traditions, such as the Tale of the Heike (Heike monogatari).
In this talk, the sixth of Encorepreneur Café's lecture series on manga and Japanese culture, Dr. Jon Holt (Professor of Japanese, Portland State University) will discuss aspects of Demon Slayer that have roots in older works of Japan's martial culture. How can Japan's demon-slaying warriors and demon-warriors (ashura) find peace together? Professor Holt will explain how this international hit proudly wears the green and black colors of Japanese humaneness underneath its adventure-comics armor.
Dr. Holt is a professor of Japanese at Portland State University and a 2021 recipient of the John Eliot Allen Outstanding Teaching Award. He received his Ph.D. in Japanese Literature from the University of Washington. His research interests include modern Japanese poetry and children's literature. He wrote his dissertation on the works of Miyazawa Kenji, arguably one of the most important figures in modern Japanese literature. At PSU, Dr. Holt teaches Japanese literature and film as well as upper-division Japanese language courses.
This is a sliding-scale event. Please pay what you can and help us continue to provide culturally relevant community programming.
Advice on finding copies of Demon Slayer Vol. 1
Some manga publishers' stock is slow to print and deliver right now–you may have a difficult time finding physical copies of Demon Slayer in the US. We have found several sources for digital copies, however:
You can read the first few chapters of volume 1 for free from Viz here and read the rest by signing up for a $1.99 per month subscription: https://www.viz.com/shonenjump/chapters/demon-slayer-kimetsu-no-yaiba?locale=en
Many volumes are also available at our local library in Multnomah County (attendees from elsewhere are encouraged to check their own local library): https://multcolib.bibliocommons.com/v2/record/S152C1560135
You can also check the typical online sources for digital copies, like Barnes & Noble or Amazon.
If you have questions, please contact us at info@encorepreneurcafe.com or (503) 954-2837.