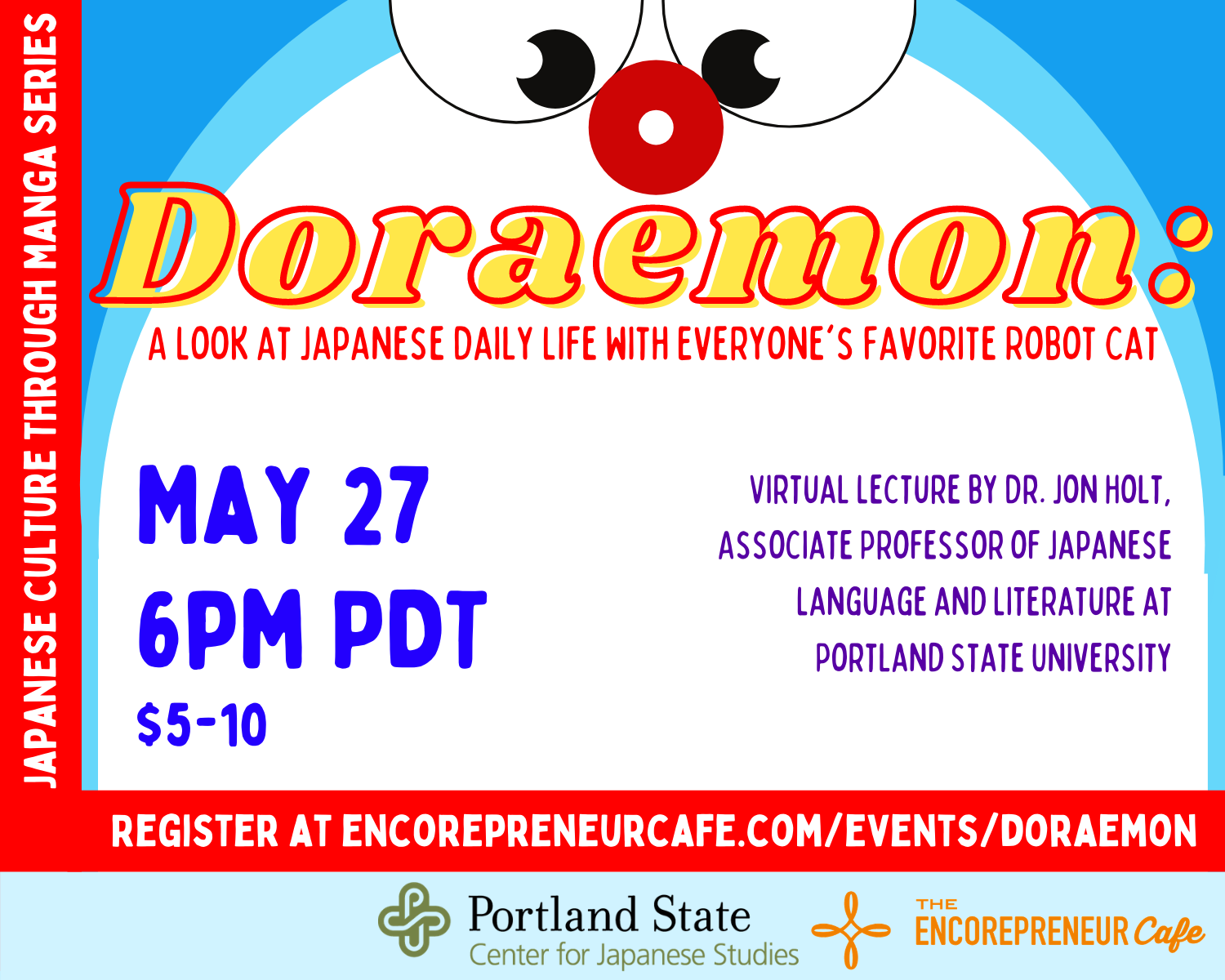 Doraemon: A Look at Japanese Daily Life with Everyone's Favorite Robot Cat
Presented by Portland State University Center for Japanese Studies and The Encorepreneur Café.
Join us for part 4 of our ongoing series on Japanese Culture Through Manga:
Dr. Jon Holt (Associate Professor of Japanese Language and Literature, Portland State University) will discuss the ever-popular children's manga and anime character Doraemon (Fujiko F. Fujio) that has become one of the most iconic cartoon characters in Japanese culture and throughout Asia. Highlighting the quintessentially "Japanese" part of this blue robot cat, Dr. Holt will explain the character's popularity not only in terms of his roundish design but also in terms of how he functions as daily life-coach and helper to the incorrigible but cute Nobita-kun.
As COVID forced lockdowns and school closures in 2020, for a period of three months Dr. Holt worked with the Japanese Immersion Program children at Mt. Tabor Middle School for weekly Zoom classroom meetings, which he called "Japan Culture Lab," where he and his 7th-graders explored Japanese language and culture using Doraemon episodes. In this special Encorepreneur Cafe talk, he will share his findings of the use of Doraemon as a classroom tool and the cool things he and his students discovered by following the adventures of Doraemon and Nobita-kun.
As Doraemon is so prolific, especially in Japan, many fans may be so used to his presence that an analysis of the cultural information to be found in the series isn't so easy to pick out. For fans and newcomers alike, Dr. Holt's talk will open the discussion on what we can learn from this pop culture icon.
Dr. Holt received his Ph.D. in Japanese Literature from the University of Washington. His research interests include modern Japanese poetry and children's literature. He wrote his dissertation on the works of Miyazawa Kenji, arguably one of the most important figures in modern Japanese literature. At PSU, Dr. Holt teaches Japanese literature and film as well as upper-division Japanese language courses. His secondary research interests include manga and Japanese Buddhism.
This is a sliding-scale event. Please pay what you can and help us continue to provide culturally relevant community programming.
If you have questions, please contact us at info@encorepreneurcafe.com or (503) 954-2837.