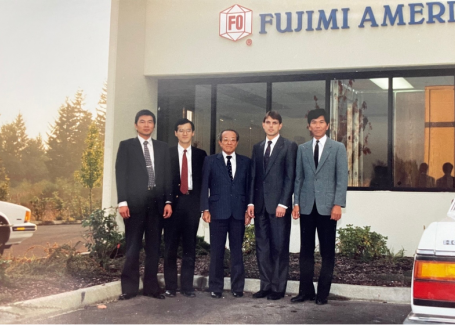 The Fujimi Story
The PSU Center for Japanese Studies presents
an installment of the lecture series Success Stories of Oregon/SW Washington and Japan Doing Business Together
A talk by John Cheney, President and CEO of Fujimi Corporation
In-person and virtual presentation
The in-person lecture will be held at PSU, Cramer Hall room 327, 8, 9
Free Admission
Per Portland State University Policy, all in-person attendees are required to wear face coverings. Please note that open-sided face shields do not meet this requirement.
Fujimi Abrasives was founded in 1950 near Nagoya Japan. This small, family owned abrasives company plays a key role in the manufacture of computer chips and memory devices. In 1988, in order to meet growing demands in the US, Fujimi decided to establish a manufacturing plant in Wilsonville, Oregon.
In this lecture, Cheney will discuss some of the challenges the company faced in setting up Fujimi's first manufacturing site outside of Japan. At the broad level, the story of Fujimi's operations here in Portland is one of the discovery and merger of management styles and company cultures, as in Japan meets the United States.
John Cheney graduated in 1984 with a BA degree in Japanese from BYU. Shortly after graduating, he took a job with NKK and was assigned to work at their ship building and research center located in Tsu city in Mie prefecture Japan. He taught English and helped the engineers prepare their English presentations and documents.
After three years with NKK, he moved back to the U.S. where he found a job with Fujimi in Wilsonville, Oregon. He was the first employee hired and has had a wide range of roles establishing and growing the company.
Contact cjs@pdx.edu for more information.