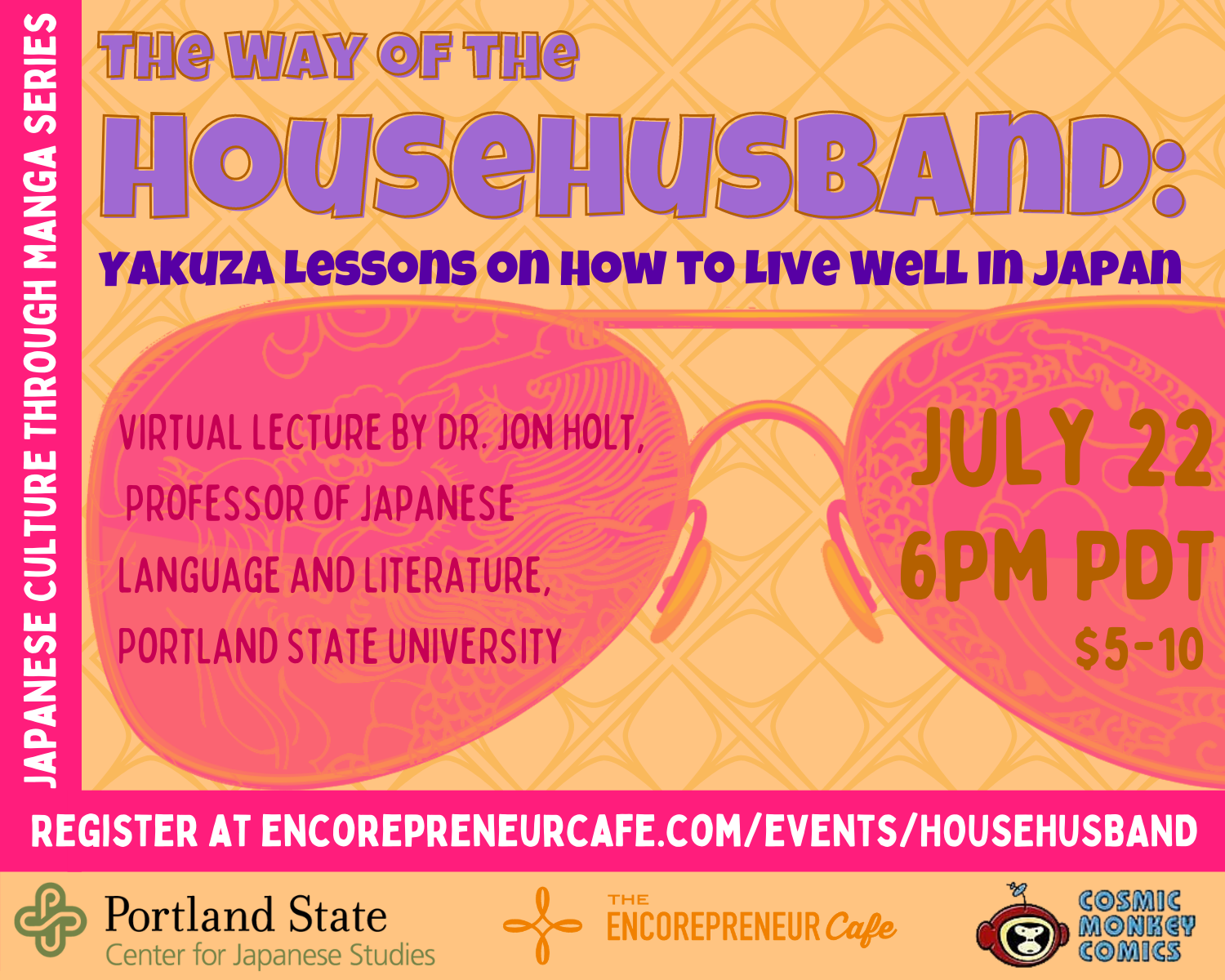 The Way of the Househusband: Yakuza Lessons on How to Live Well in Japan
Presented by Portland State University Center for Japanese Studies, The Encorepreneur Café, and Cosmic Monkey Comics

Join us for part 5 of our ongoing series on Japanese Culture Through Manga:
Ohno Kôsuke's phenomenal manga, The Way of the Househusband (Goku-shufu-dô), captured audiences in Japan in 2020, and, now with the live-action television series and the Netflix anime, Househusband has become an international hit. Dr. Jon Holt (Professor of Japanese, Portland State University) will explore how both aspects of classic manga and elements of larger Japanese culture pop up in this very original comic book.
As a part of Encorepreneur's ongoing lecture series on manga, Dr. Holt's talk will trace the connections between Househusband and larger Japanese comic-book history, and he will explain how the Japanese love of "daily life" (seikatsu) fuels the humor of this wickedly funny and touching series. How can being a "househusband" be a Way of Life—similar to the art of flower arranging (ikebana) or the Japanese tea ceremony? Why does the Immortal Dragon (Tatsu) approach vacuuming, shopping, and cooking with the intensity of a yakuza killer? Why is this househusband the perfect man for Japanese working women in the 21st century? And what is the secret of Tatsu's "Shiba-Inu" cooking apron? All of these questions and more will be answered.
Please pick up a copy of Volume 3 of The Way of the Househusband from Cosmic Monkey Comics, and let's discuss together this Japanese humor comic that shows home is where the heart is. It's a good thing!
To purchase a copy:
For locals, we strongly encourage you to visit Cosmic Monkey Comics at 5335 NE Sandy Blvd in Portland. They have plenty of copies of Volume 3 and will give you a 10% discount if you mention you are attending this event. With the discount, the book is only $11.69, and it's worth the trip just to check out the store!
For non-locals within the US, you can also order from Cosmic Monkey Comics by sending $19.95 (discounted book price + USPS priority mail shipping/handling) via PayPal to cosmicmonkeymail@gmail.com. Be sure to include your mailing address!
Dr. Holt is a professor of Japanese at Portland State University and a 2021 recipient of the John Eliot Allen Outstanding Teaching Award. He received his Ph.D. in Japanese Literature from the University of Washington. His research interests include modern Japanese poetry and children's literature. He wrote his dissertation on the works of Miyazawa Kenji, arguably one of the most important figures in modern Japanese literature. At PSU, Dr. Holt teaches Japanese literature and film as well as upper-division Japanese language courses.
This is a sliding-scale event. Please pay what you can and help us continue to provide culturally relevant community programming.
If you have questions, please contact us at info@encorepreneurcafe.com or (503) 954-2837.