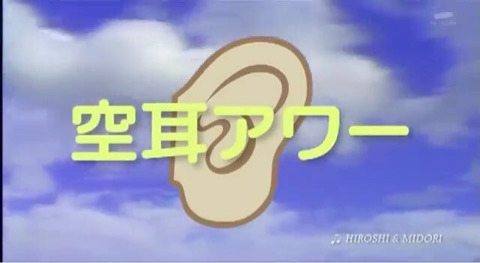 Japanese Comedy Night Series: Soramimi Hour
Soramimi Hour (Misheard Hour) is the popular segment of the late-night TV variety program Tamori Club, hosted by legendary sunglass-wearing comedian Tamori. Soramimi Hour consists of short skits which are based on misheard lyrics submitted to the show by audience members. The skits are hilariously well made, and it's surprising to hear just how much English can sound like Japanese when sung to music.
Here are some examples.
Rage Against The Machine – Killing In The Name
"Now you do what they told ya" is misheard as "ナゲット割って父ちゃん" (Split the chicken nuggets, dad?)
Metallica – Through the Never
"Twisting Turning Through the Never" is misheard as "寿司!鳥!風呂!寝ろ!" (Sushi! Chicken! Bath! Sleep!)
Judas Priest – Sinner
"..curse. And damn you all you fall by the hand of the sinner!" is misheard as "母さんが言う。こういうパーマは変だと。死のう。" (Mom said. This perm is funny looking. Thus, I die.)
Ella Fitzgerald & Louis Armstrong – Cheek to Cheek
"Take it Ella, swing it" is misheard as "できればスパゲティ" (I want spaghetti if it's available.)
And we have more skits to watch! We will have a discussion time in English and Japanese–all levels welcome. Grab a beer or your favorite drink, laugh, and enjoy the conversation!
We appreciate your donation through Paypal at: https://www.paypal.me/encorepreneurcafe to support our organization and keep our programs going.
Suggested donation: $5
Of course, you can just join without donation.
Join Zoom Meeting
https://us02web.zoom.us/j/84588519175?pwd=TkhyWWxkZDlZZW96UHNTMEh3R2xuQT09
Meeting ID: 845 8851 9175
Password: 898512